In order to send an invoice or an estimate, you need to create a customer record. A customer record contains the customer name, their email address, and (optionally) their phone number.
You may add a customer record as you create an invoice (see Create and Send an Invoice for instructions) or you may add customer records from the Customers tab.
Add an individual customer
Click on Customers to bring up the Customer List page. Click New customer. The Add customer page will appear.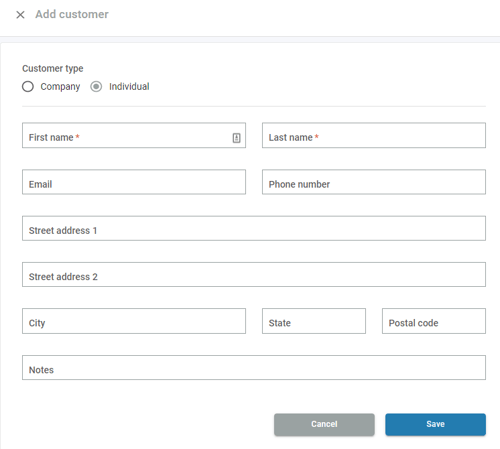 For an Individual customer, only the First name and Last name fields are required.
For a Company customer, only the Company name field is required.
Please note that invoices are automatically sent out via email, so if you would like an invoice to be sent out when it's created, the customer record must have an email address on file.
Once you have entered in all of the pertinent information for this customer, click Save to add this customer to your Autobooks account.
Please note that invoices are NOT sent out via text, so putting in a phone number in for a customer is purely for your record-keeping purposes.
Import a Customer List
You may upload a list of customer records to Autobooks. To begin, click Import customers.
We recommend you download our sample file and complete the file with your customer information. Each line in the spreadsheet sample is an individual customer record. First name and Last name OR Company fields are required for you to upload this file into Autobooks.
Once you've completed the spreadsheet file with your customer information, click Browse files to select the customer spreadsheet file on your computer. Select the file, then click Open to upload the customer list.