Are you a non-profit? Learn how your donors can increase their donations to cover your processing fees.
If your non-profit organization uses Autobooks to collect donations, your donors can now increase their donation amount to cover your processing fees. To take advantage of this enhancement, you'll need to update your Payment Link settings.
Update your Payment Link settings
Log in to online banking, then select the Payment Link tool.
Select the Payment Link Settings tab, then click Edit Information on the right side of the screen.
Change the selection in the Payment type dropdown to either Donation or Contribution.
Click Preview Changes. You'll see the language throughout your form has changed to the preferred wording (either Donation or Contribution).
Click Save Settings to complete the change.
This change will indicate to Autobooks that your organization is a non-profit and allow our new feature to appear to your donors on your payment form.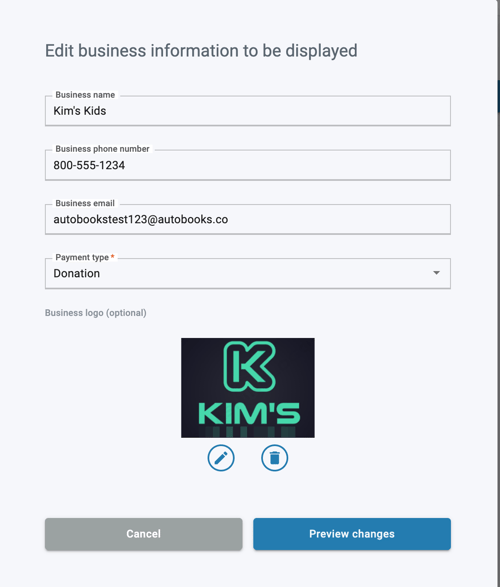 How Donors will cover processing fees with their donation
Once you've updated your payment form language to Donation or Contribution, your donors will see a new checkbox when completing their donation information labeled Add $ to cover my processing fees.
The dollar amount shown in the checkbox is dynamic, and will change based on the donation amount entered at the start of the form. For example, if a donor enters a $100 donation using their credit card the checkbox will display "Add $3.49 to cover my processing fees".
To add this amount to the total donation, the donor will check the box. The Donate button at the bottom of the form will automatically update with the new total donation amount.