A vendor is a person or business that you purchase goods or services from as a cost to your business.
Navigate to the Pay Bills or Vendors section of Autobooks in the left side menu. Click the Vendors tab.
From this page, you can view all of the Vendors you have entered into your Autobooks account.
Edit an Existing Vendor
Select a Vendor from the list to bring up the right-side menu. You can view and edit the Vendor details or Pay vendor invoice.

Add a New Vendor
Click the New vendor button. The Add vendor page will appear.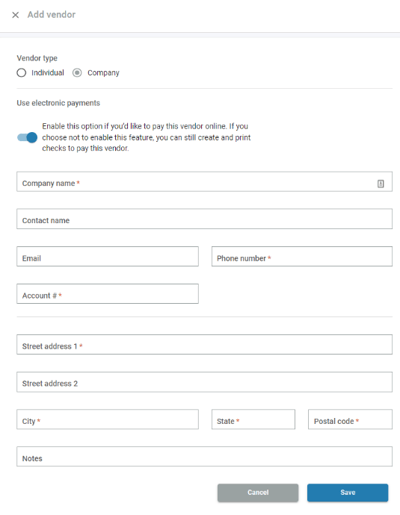 Select the vendor type (an individual or company listing) then complete the corresponding details.
If using this vendor for an electronic payment, please make sure all information is correct before saving to prevent delays! For more information, see our Pay a bill article.